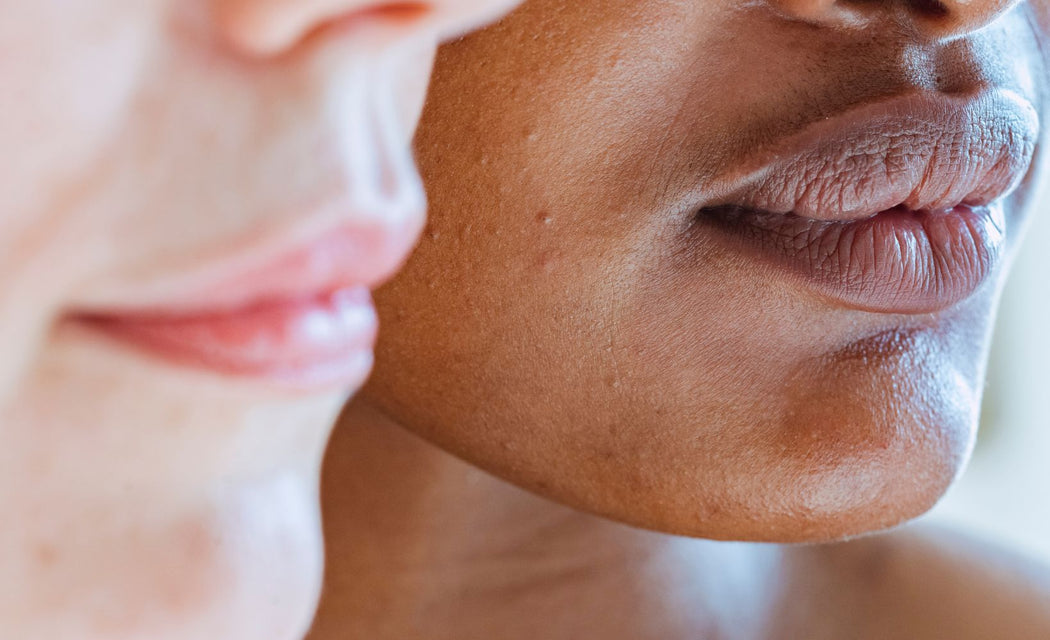 THE SKIN WE LIVE IN SERIES- OIL-RICH SKIN
Identifying our Skin Type and How to Look After It
To achieve the kind of soft, dewy, glowing skin we all aspire to, we first need to understand our skin type and how to care for it, so it can look its best. To help, we've created a summary of the most common skin types, including potential problem areas for each skin type, and the kind of products you should look for, to help get your skin in tip-top shape.

Oil-Rich Skin

1. What Is Oily Skin? What Causes It?
A common skin type, oily skin is often experienced in our younger years, although it can affect anyone, of any age. It is often genetically based (oily skin tends to run in families) and may be influenced by a hot, humid climate, or even your diet. It's usually characterized by shiny skin and larger pores that can easily become clogged, meaning that oily skin types often have to contend with blemishes and blackheads, as well as skin that can appear dull and thick.

2. Common Mistakes Made In Treating Oily Skin
Treating oily skin can be complex, especially when it has so many different possible causes! There are some things to watch out for though, and some common mistakes to avoid, if you want to manage your oil-rich skin effectively…
Don't overdo your skincare routine!

When it comes to caring for oily skin, it's tempting to throw in a couple of extra exfoliating treatments each week, on top of washing our faces a lot. Unfortunately, overdoing it can actually make our skin even oilier! This is because our sebaceous glands can go into panic mode when we strip too much oil from our skin, producing even more oil to make up for the loss. 

Don't neglect your moisturizer.

Another mistake we often make when we have oily skin is to avoid moisturizing it, thinking this will make things worse. This is a myth. Also, if we're treating our skin for acne or other breakouts (which, as we've noted, are common for oil-rich skin types), then we absolutely need a moisturizer in our life. The trick is choosing the

right

moisturizer. We'll get into this more below.
3. Caring For Your Oily Skin
As with all skin types, the key for oil-rich skin types is to balance the skin. Leave it too oily and the skin will be either too shiny or dull, and prone to breakouts. Dry it out too much and it will become irritated and inflamed, with the risk of infection. In the end, it's a juggling act, and may well involve careful experimentation to find the routine that works for you. But here's some essential tips that all oil-rich skin types should consider.
Exfoliate.

Although you need to avoid overdoing it (see above), exfoliation is an important step in your weekly skincare routine, to help remove the build-up of dead skin and oil. Although the right amount of exfoliation will be unique to you (again, it's a juggling act!), you should only need to exfoliate once or twice a week, using an exfoliant that acts gently on the skin, rather than aggressively stripping it of oils.

Keep your skin fresh and clean.

Washing your face 2-3 times a day can help keep your skin fresh and clean, and excess oils at bay. Take care though to avoid using harsh chemical soaps, which will strip the skin of essential nutrients and eventually cause it to become overly dry and irritated. A gentle natural cleanser is recommended instead, one that helps the face stay hydrated and that keeps the skin in balance, even as it removes excess oil. We highly recommend our

Clean Slate AHA Cleanser

for this.

Find the right moisturizer.

Whilst anyone with oil-rich skin will want to avoid using super-rich, heavy moisturizers, they do need to support their skin with the right moisturizer. Look for a lightweight moisturizer that's been formulated to balance the skin and filled with the kind of natural ingredients that help to calm and soothe. For anyone who regularly experiences oily skin and consequent breakouts, our

Task Force Nine Turmeric and Calendula Cream

comes highly recommended, whilst our pH balancing

Daily Rituals Sea Buckthorn and Rosehip Moisturizer

is also a good option for anyone who has moderately oily skin or experiences it only occasionally.

We are what we eat.

Our diet and gut health are both closely linked to the appearance and condition of our skin. For oily skin types, it can help to avoid overly salty foods and/or alcohol (which can lead to an increase in oil levels as our skin tries to fight off the dehydration caused by them), too much red meat (which is high in saturated fats), sugar, refined carbohydrates, and skim milk (all of which can trigger the production of a hormone, known as IGF-1, that can stimulate an overproduction of sebum), and fried foods (which are not only high in saturated fats, but almost certainly trans-fats too).