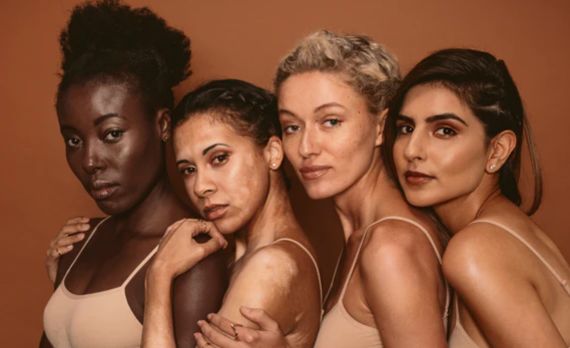 THE SKIN WE LIVE IN - DRY OR DEHYDRATED SKIN
Identifying our Skin Type and How to Look After It
To achieve the kind of soft, dewy, glowing skin we all aspire to, we first need to understand our skin type and how to care for it, so it can look its best. To help, we've compiled the following summary of the most common skin types, including potential problem areas for each skin type, and the kind of products you should look for, to help get your skin in tip-top shape.
Dry or Dehydrated Skin
 1. What is dry skin? What is dehydrated skin?
Because the symptoms of dry and dehydrated skin often appear the same, they are sometimes confused for one another. This can lead to problems (and less than glowy skin!), as the ideal treatment for each skin type is very different. Here's a breakdown of the difference between the two and how to identify whether your skin is dry or dehydrated.
Dry Skin

– Dry skin is a skin type, in the same way that oily or combination skins are a skin type. Generally, it is characterized by a failure to produce sufficient oil or sebum. When this happens, the skin struggles to retain moisture and this often leads to a rough, scaly, or flaky appearance. Dry skin is also prone to redness or irritation, as well as increased incidence of skin conditions like eczema, psoriasis, or dermatitis.

Dehydrated Skin

– Dehydrated skin, on the other hand, is a condition, rather than a specific skin type. It occurs when our skin lacks moisture (as opposed to a lack of oil production). Similar to dry skin, this can lead to a flaky appearance. Additionally, dehydrated skin is often prone to itchiness, dullness, and even a greater sensitivity to fine lines and wrinkles.  
2. Causes of Dry and Dehydrated Skin
The causes of dry and dehydrated skin are broadly similar, although dry skin generally has a genetic basis, whilst dehydrated skin almost always occurs as a result of external circumstances, actions, and conditions. Causes include:
Environmental Factors

– There's a reason why our skin is often drier in winter! Harsh weather conditions, and most especially cold or dry air, can cause moisture loss, leading to dryness and dehydration.

Aging

– As we age, our skin naturally loses it capacity to hold onto oil and moisture.

Long, Hot Showers and Baths

– This is something we regularly warn against! As wonderful as it can be to enjoy a long, hot shower, especially in winter, prolonged exposure to hot water can strip the skin of its natural oils.

Synthetic Personal Care Products, Including Harsh Soaps and Skincare Products

– Products that contain alcohol and 'fragrances' can strip the skin of natural oils (rather than nurture or replace them). Over time, this leads to dry or dehydrated skin, and can also cause redness, irritations, and even more problematic skin conditions like eczema.

Poor Diet and Hydration

– Not drinking enough water or consuming a diet lacking in essential nutrients can deplete our skin of moisture and a healthy balance of natural oils.

3. Common Mistakes Made In Treating Dry or Dehydrated Skin
Some of the common mistakes made in treating dry or dehydrated skins are similar to those that cause the conditions in the first place, including bathing in overly hot water and using harsh synthetic cleansers and other skincare products. Rather than freshening and revitalizing the skin, these actions can lead to increased dryness, as well as flaky, rough, and dull skin. Other common mistakes include:
Over-Exfoliating

– It can be tempting to over-exfoliate dry skin, especially when it becomes flaky or rough in appearance. Unfortunately, this can damage the skin barrier and exacerbate dryness and irritation over time.

Skipping Moisturizer

– At the other end of the scale, some with dry skin can try to improve the condition by paring back completely on their skincare routine, hoping this will help to rebalance their skin. Dry and dehydrated skins need help and choosing the right moisturizer for both skin types (see below) is a vital component of this. 
4. Caring for Dry or Dehydrated Skin
When caring for dry or dehydrated skin, it's important to remember that they have different causes. Dry skin is characterized by a lack of oil production, whilst dehydrated skin is characterized by a lack of water. This should be considered when devising the best skincare routine to help manage each condition.
A gentle natural cleanser is essential: No matter whether you have dry or dehydrated skin, a gentle natural cleanser will prove a super-important component of your routine. For dry skin types, the cleanser should be formulated to help maintain and protect the skin's natural oils, rather than strip them away. For dehydrated skin, it should help prevent moisture loss, balance pH, and keep the skin barrier intact. In either case, The Organic Skin Co.'s

Clean Slate, Fruit Acid Complex Cleanser

fits the bill perfectly! 

Keep your skin well-toned!

A premium natural toner is recommended, no matter whether you have dry or dehydrated skin. For dry skin types, the toner will help restore pH levels and prevent irritations, whilst for dehydrated skins, a toner can help the skin retain optimal moisture levels across the day, preventing dullness and mitigating the formation of fine lines. Remember though to avoid toners which include alcohol, as this will only serve to dry the skin further over time. Instead, look for a toner, like our

Set The Tone, Hydrating Rose Mist Toner

, that's full of organic ingredients formulated to hydrate, calm, and brighten the skin. 
Ceramides are your friend:

If you have either dry or dehydrated skin, then you know only too well that it is prone to flakiness, cracks and irritations. To help combat this, it's important to use skincare products that contain

ceramides

, which not only help to hydrate, soften, and smooth, but also keep the skin barrier healthy and functioning as it should. As always, we recommend you look to Mother Nature for your inspiration, seeking out products that are rich in natural ceramides (jojoba seed oil and sunflower oil each have extraordinarily high percentages of ceramides, and we use either one or both oils in most products in The Organic Skin Co. range).
Choose the right moisturizer:

Finding the right moisturizer for your skin is perhaps the most essential part of your skincare routine, no matter what your skin type. For dehydrated skin, a moisturizer that helps increase your skin's moisture content is the key. We highly recommend our

Hydration Agent, Vanilla and Amaranth Moisturizer

for this (the name kind of says it all!). For dry skin, a moisturizer that helps replenish the skin's natural oils is ideal. Once again, Hydration Agent is excellent in this regard, whilst anyone wanting to give their skin a real boost - locking in both restorative oils and extra hydration – need look no further than our ultra-thick, ultra-luxe

Dream Cream, New Zealand Marine and Vitamin C Moisturizer.

Finally, if you have dry skin, it can really help to apply your moisturizer when you're straight out of the shower, or when your face is still damp, to help lock in extra moisture.

We are what we eat:

As well as drinking plenty of water (an essential, especially, for those with dehydrated skin) anyone with dry or dehydrated skin should look to support their skincare regime with a diet rich in nutrients that help support the skin's barrier and lock in moisture. Generally, most nuts, seeds, leafy greens, and fruits will help with this, as they contain the kind of vitamins and minerals that are typically lacking when your skin is dry or dehydrated. Wild salmon (rich in omega-3s), eggs (a great source of sulfur and lutein to help hydrate and promote elasticity), and green tea (full of antioxidants and anti-inflammatories) are also recommended. Conversely, alcohol, coffee, and highly processed salty foods should be avoided, as they are diuretics which will likely dry out the skin even further.