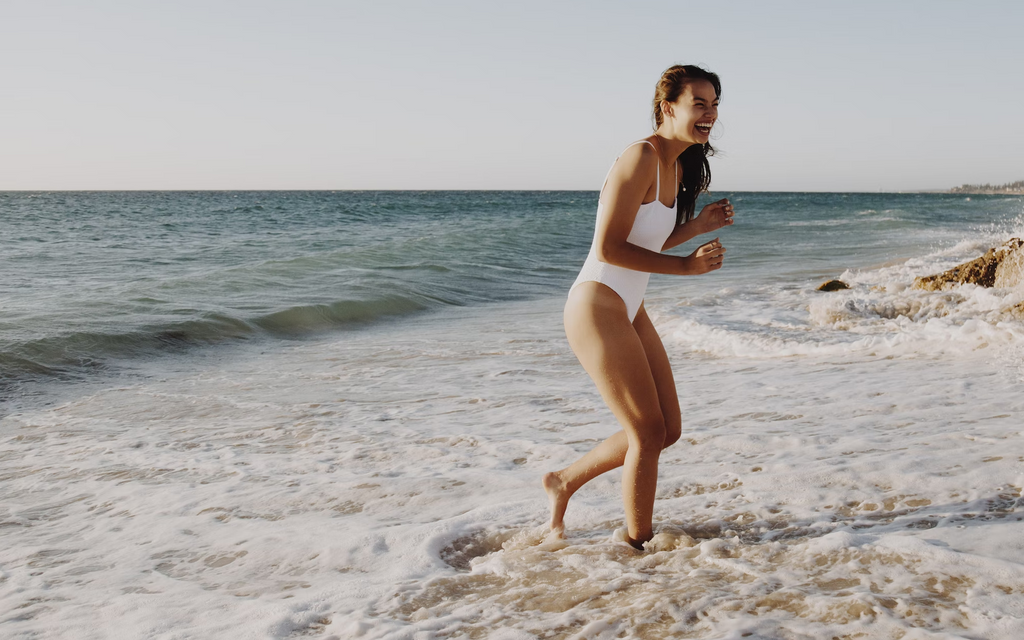 SUN, SAND, SWIM… BUT WHAT ABOUT MY SKIN?
A simple, effective routine to keep your skin happy on your summer beach holiday.

There's nothing like a summer beach holiday. Long sun-filled days, balmy nights, great food and drink, the chance to catch a few waves or simply drape our towel over golden sand, lie back, and relax… It's good for the soul, good for the mind, good for the body.

But is a beach holiday good for our skin? The answer to that is "not so much", at least, not unless we stick to a few basic principles, adopting a routine that'll keep our skin looking radiant, even as we soak up some rays.

Here are the four skincare products we all need for fresh, beach-babe skin, plus the one skincare product we can do without, at least while we're on holiday!

The one product we can do without…

When you pack your skincare for your beach getaway, you can put your exfoliant to one side. That's because sand and seawater act as natural exfoliants anyway, helping to gently strip your skin of dead cells and regenerate new ones. But beware of overdoing it! Swimming too long in the sea, or aggressively rubbing your face and body with a sandy towel may result in the loss of vital oils and skin bacteria, leading to the same kind of damage that's caused by exfoliating too often at home.

And the four products we all need for great beach skin…

Your skincare routine at the beach can be as complex as you like, but if you're looking to keep things simple, then here's the four essential skincare products we recommend you take with you!

Natural Sunscreen: Let's start with the no-brainer. Even though we're strong advocates for boosting your vitamin D levels by catching some unfiltered rays for a few minutes early in the morning or late in the afternoon, you simply can't spend hours at the beach without applying, and – occasionally – reapplying, sunscreen. Naturally enough (no pun intended!), we recommend a quality mineral-based sunscreen, with an SPF factor of 30+ or greater. Pleasingly, there are a lot more natural sunscreens on the market now, free of the type of toxic synthetic chemicals that do long-term harm to our skin and the environment.


A Treatment Cream or Balm: Minor sunburns, heat rashes, insect bites, cracked lips and heels… as much as we love our beach getaways, they're never entirely without cost, at least as far as our skin is concerned! That's why it always pays to have an organic balm or treatment cream on hand; the kind of multitasking product that can handle a variety of needs and issues, at the same time as it helps to hydrate the skin and – because it's full of antioxidants - protect against environmental aggressors.

RECOMMENDED PRODUCTS: Task Force Nine, Turmeric and Calming Cream; Soothe Operator, Turmeric and Calendula Balm


Natural Cleanser: It's difficult, if not impossible, to leave behind a day at the beach without a combo of sweat, sand, and sunscreen leaving with you, imprinted on your skin. That's why a good quality natural or organic cleanser is so important; one formulated with oils and gentle natural acids that not only help remove grime and residue without stripping the skin, but hydrate and replenish as well.

RECOMMENDED PRODUCT: Clean Slate, Fruit Acid Complex Cleanser


Hydrating Moisturizer: After a long day at the beach, your skin needs all the moisture it can get. That's why a moisturizer, applied nightly, is so important for your getaway, helping to replenish the skin and keep it fresh and hydrated. As a bonus extra, look for a natural moisturizer that's packed with antioxidants. We invariably spend long periods of time outdoors during our holidays, resulting in prolonged exposure to environmental aggressors. An antioxidant-rich moisturizer will help combat them.

RECOMMENDED PRODUCTS: For oily or combo skin – Daily Rituals, Sea Buckthorn and Rosehip Moisturizer. For dry, dehydrated or mature skin – Hydration Agent, Vanilla and Amaranth Moisturizer; The Dream Cream, New Zealand Marine and Vitamin C Moisturizer.
Plus, for those looking for more than a minimalist beach getaway routine…
If you think your skin is going to need a little bit more care and loving attention while you're on holiday, then – in addition to the simple routine outlined above - you might consider adding these two products to your travel bag!


Organic Mist Toner: They're not easy to find, but a premium organic mist toner can make for a great beach holiday companion! Simply pop it in the fridge as soon as you arrive at your holiday home and leave it to cool. Then, whenever you arrive back indoors from the beach or a walk, get it out and spray. Not only will the toner provide a hydrating boost to your skin, it will also help lift your mood, refreshing and energizing, all at once!

RECOMMENDED PRODUCT: Set The Tone, Hydrating Rose Mist Toner


Serum: If you find your skin gets extra-dehydrated after long hours in the sun, then a quality serum makes for a great addition to your evening holiday routine. Ideally, the serum should be rich in oils and antioxidants, helping to rejuvenate the skin, replenish collagen, fight fine lines and wrinkles, and leave you with the kind of skin you can't wake to take to the beach when you wake up in the morning!

RECOMMENDED PRODUCT: Vitamin Sea, New Zealand Marine and Vitamin C Moisturizer
This blog post was written for educational purposes only. It is not designed to diagnose, treat or cure. For individual health concerns World Organics recommends that you consult with a relevant health professional.